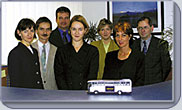 Our company is based in the heart of Eastern Europe, in Budapest. It is owned by over 100 licensed local guides, and it features its own coach fleet. It is a unique agency offering various high quality land arrangements.
The company was established in 1992. Year by year our income is increasing. We have more and more customers. Our success is based on the satisfaction of our customers.
Our experienced office staff will provide you the right offer and on time. Our operation managers have good and long-term personal relations with hotels, restaurants and regularly do quality checks. Around the clock emergency line makes you sure that you and your clients are not left alone in the off husiness hours. Our main advantage is the reliable high quality service with very competitive rates. No matter how small your business might be you can be sure about your clients, we will treat them like you would do.
No more poor guiding... Rely on our trained guides in all languages, no more complaints about coaches, no more languages barriers between you and the driver... Ride our modern, high decker, air-conditioned buses and enjoy the service of our English speaking drivers.